Extra Curricular Programs
Intergenerational Learning Program
We are so excited to announce our Intergenerational Learning Partnership with BrightView Senior Living Community!
Each month Honey Tree will either host or visit our new friends at Brightview.
Beginning in September we will host as many as 9 Senior Residents from Brightview. In our Preschool and PreK classrooms the seniors will work with the children to create art, science and other projects. We have researched Intergenerational centers in the UK where there is a Preschool on one floor and Senior Center on another. The groups spend activity time, lunch and do all sorts of fun things together. The benefits for both generations are incredible. We are thrilled to be the first school in Monroe to provide this tremendous experience.
Additionally, BrightView is excited to host activities for Honey Tree families! We plan on visiting the Senior Center in December and May to sing songs and mingle with our new friends. This may be a family event in the evening - so EVERYONE can visit with the Seniors. In the meantime, they have a movie room, a craft center and more. We will plan field trips to visit Brightview throughout the year
Jump Bunch provides great exercise in a structured format that introduces a wide variety of sports, and builds coordination, balance and confidence.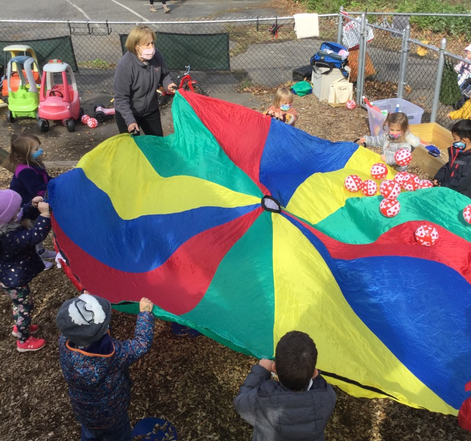 Jump Bunch joins us every week and each class includes warm-ups, floor exercises, the sport activity of the week, stretching, then cool down. We don't make it competitive for preschoolers; it's a completely positive experience. It's amazing how this early exposure makes kids more willing to give new sports a try as they get older.
We are also a part of our COMMUNITY
The local Fire Department visits us to teach us all about fire safety. The children also get to see and climb the fire truck!
We also have a visit from our Dental Hygienist. The children learn all about how to maintain a healthy mouth with strong teeth.
Twice a year we collect non-perishables for the local food pantry. The Preschool and PreK classes take the food to the pantry and even stock the shelves.
Our Halloween Trick-O-Trunk, Holiday Concert and Moving Up Ceremony in June are a few examples of our family gatherings.  Families are invited to bring a dish to share and join in the celebration.  Grandparents, aunts, uncles and friends are always welcome.  The more, the merrier.
After all, we are just ONE BIG HAPPY FAMILY.